ROSNANO head Anatoly Chubais got acquainted with the ROEL group of companies' innovation projects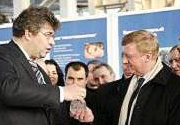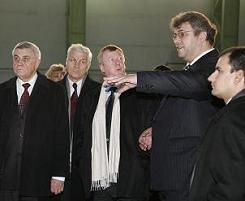 Anatoly Chubais, general director of the Russian Nanotechnologies state corporation, accompanied by Vladimir region governor Nikolai Vinogradov visited the technological cluster of the High-Purity Quartz Glass factory (HPQG, Gus-Khrustalny) during his visit to the Vladimir region.
The HPQG's technological cluster is a division of the Synthetic Crystals, which is, in turn, under the management of the ROEL group of companies.

During the visit, ROEL group of companies General Director Vladimir Dorokhin told the Rosnano head about the group's investment in innovation developments. Vladimir Dorokhin presented innovation products and project of the RUSELPROM Russian electro technical concern (7A energy efficient engine, gearless elevator drive, a hybrid engine for city transport, tractor KHEE) and RJSC ROSAGROBIOPROM (a project to root out rabies in the Russian Federation, an import substitution program in veterinary medication) to Anatoly Chubais.

National Technological Group General Director Vitaly Krupenin presented the Self-Resonance Technologies project. Anatoly Chubais expressed his high opinion of the project's potential and recommended presenting the project to the ROSNANO expert council to be included into a state program for financing.

During the visit, Anatoly Chubais also had a short excursion to the technological cluster's production facilities, got acquainted with the products and technologies of the Technokvarts and HPQG.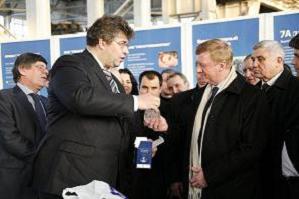 12.03.2010

views -3244